Chancellor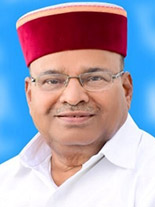 His Excellency Shri. Vajubhai Rudabhai Vala
Governor of Karnataka
Shri. Vajubhai Rudabai Vala was born on 23rd January, 1938. He graduated in B.Sc., LL.B. Earlier, he was speaker of the Gujarat Legislative Assembly and Cabinet Minister of Gujarat State.He was a Minister of Finance, Labour and Employment. He was elected to Gujarat Legislative Assembly from Rajkot. He was also the Mayor of Rajkot before contesting for the state elections and was finance minister for govt. of Gujarat for two terms.
HELD THE FOLLOWING POSITIONS
Director, Rajkot Nagarik Sahakari Bank, 1971-1990

Chairman, Rajkot Nagarik Shakari Bank, 1975-1976 and 1981-1982 and 1987-1990

Municipal Councillor of Rajkot from 1975-1993 Mayor of Rajkot city from 1983-1988 and 1991-1993

M.L.A of Rajkot-2 Constituency from 1985-2001, 2002

Minister in Gujarat Government: Urban Development Minister Energy, Petrochemicals and Co-operation from 1995-1996

Finance and Energy Minister from 1996-1997

Finance and Revenue Minister from 1998-2001

Finance Minister from 2002-2005

Finance Minister from 13-12-2006 to 25-12-2007

Finance, Labour and Employment, Transport Minister from 04-01-2008 to 26-12-2012.

B.J.P Party president from 1996 to 1998

Appointed as Speaker of G.L.A. from 26-12-2012 to 18-01-2013 S

Speaker of G.L.A. from 23-01-2013 to August 2014

Presently assumed the charge of Governor of Karnataka from 01-09-2014.