Director of Research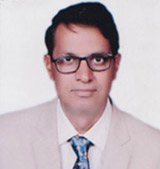 Dr. B. V. Shivaprakash
Director of Research
Designation and address  :

Director of Research
Karnataka Veterinary Animal and Fisheries Sciences University,
Nandinagar,
Bidar – 585 401

Qualifications
M. V. Sc., Ph.D.
Contact :

Office      :   Directorate of Research
Mobile     : +917259023567
Email      :  drkvafsu@gmail.com
| | |
| --- | --- |
| Fields(s) of specialization | Veterinary surgery and Radiology |
Current Projects
Monitoring all the research projects of the University as Director of Research
| | | | |
| --- | --- | --- | --- |
| Project title | Role in the project | Fund outlay | Funding agency |
| Livestock activities in Chickaballapur, Dharwad and Bidar districts | Nodal officer | 32.05  lakh | ICRISAT, Hyderabad |
Completed Projects
| | | | |
| --- | --- | --- | --- |
| Project title | Role in the project | Fund outlay | Funding agency |
| Experiential Learning Unit on Critical Care in animals | Nodal | 98.00 lakh | ICAR |
Recent Research Publications
Sl.No

Author(s)

Title

Name of Journal

Volume

Page

Year

1

B.R. Balappanavar.,
B.V.Shivaprakash.,
S.M.Usturge.,
D.Dilipkumar., Ashok
pawar., Vivek.
R.Kasaralikar and Vinay
Tikare.

Combination of  urethrotomy, urinary bladder repair, tube cystostomy in clinical cases of urethral obstruction in bullocks

International J. Advance research ideas and innovations in technology

3(4)

125-130

2017

2

Manjunath patil.,
D.Dilipkumar and
B.V.Shivaprakash

Locking compression plating for surgical repair of diaphyseal femoral fracture in dogs

Intas Polivet

8(1)

134-137

2017

3

Manjunath Patil.,
Dilipkumar, D.
Shivaprakash, B.V.,
Vivek R.Kasaralikar.,
Vinay Tikare and Ramesh
B.K.

Physiological and biochemical changes during repair of femur fracture in dogs.

The Pharma Innovation J.

6(8)

381-385

2017

4

Arunkumar, S.,
D.Dilipkumar., and
B.V.Shivaprakash

Clinical and physiological evaluation of dexmedetomidine, xylazine and triflupromazine as preanaesthetics with propofolisoflurane anaesthesia for various surgeries in dogs

The Pharma Innovation J

6(8)

100-105

2017

5

Arunkumar S.
Dilipkumar, D.,
Shivaprakash, B.V.,
Bhagavantappa, B.,

Comparision of right flank and ventral midline approach for ovariohysterectomy in dogs

Journal of entomology and zoologystudies

5(6)

2411-2416

2017
Honours & Awards
| | | | |
| --- | --- | --- | --- |
| S.No | Name of Award | Awarding Agency | Year |
| 1 | Dr. Bhaskar Singh award( paper in orthopaedics) | Indian vet. Association | 1998 |
| 2 | Smt. Ramani Ramachandran memorial award (paper on Cancer research) | Indian vet. Association | 1998 |
| 3 | Best Veterinarian award | Karnataka Veterinary Association | 2003 |
| 4 | Fellow award | Indian Society for Veterinary Surgery | 2009 |
| 5 | Ruminant Surgery Award/Gold Medal | Indian society for veterinary surgery | 2008 |
| 6 | Dr.A.K.Bhargava Award | Indian Society for Veterinary Surgery | 2009 |
| 7 | Gold medal award, Orthopaedic | Indian Society for Veterinary Surgery | 2017 |
Others Achievements
Performed large number of surgeries especially in large animals with very high survival rate and designed many innovative surgical techniques.
Served as chairman and member for many committees of the university.
Served as selection committee member for recruitment of faculty of different Universities such as Telengana Vet. University, TANUVAS, Chennai, Vet. University, Madhyapradesh, MAFSU, Nagpur.
Served as member, VCI Inspection team for recognition of many veterinary colleges
Developed the Department of Surgery and Radiology as founder Senior faculty since 1992, and as  Head of the Dept,
Contributed for the development of Veterinary college, Bidar  as Dean during 2015 to 2017.
Organized many short term training courses on Large animal Surgery, orthopaedic surgery and X-ray techniques  as course Director.