Faculty
STAFF POSITION (TEACHING)
Sl.No

Sanctioned Post

No. of Posts

Scale of Pay

Name of Incumbent & Actual position

Sanctioned

Filled

Vacant

RESEARCH STAFF

1

Professor

1

-

1

37400-
67000

Vacant

2

Associate Professor

1

1

-

I

37400-67000

Dr. Siddalinga Murthy, H.K.
Associate Professor & Head

3

Assistant Professor

6

-

6

I

15600-39100

Vacant
STAFF POSITION (NON TEACHING)
Sl. No

Sanctioned Post

No. of Posts

Scale of Pay

Name of Incumbent & Actual position

Sanctioned

Filled

Vacant

1.

Stenographer

1

-

1

20000-36300

Vacant

2.

Assistant

1

-

1

16000-29600

Vacant

3.

Field Assistant

5

1

4

16000-29600

Mr. Santosh S. Talwar

4.

Lab Assistant

1

1

-

16000-29600

Mr. Ramesha

5.

Tractor Driver

1

-

1

14550-26700

Vacant

6.

Messenger

2

2

-

11600-21000

K. Krishnegowda

11600-21000

B. Jayaramu

7.

Watchman

1

-

1

9600-14550

Vacant

 SUPERNUMERARY POSTS

1.

Senior Farm Labourer

1

1

-

11600-21000

B. Boregowda

2.

1

1

-

11600-21000

Manjanna

3.

1

1

-

11600-21000

Vanajakshi

1.

Farm labourer

1

1

-

9600-14550

Sakkamma

2.

1

1

-

9600-14550

Puspha

3.

1

1

-

9600-14550

S. Krishnegowda

4.

1

1

-

9600-14550

Jayaramegowda
Name of the faculty with official address

Dr. SIDDALINGAMURTHY, H. K.
Associate Professor & Head
Livestock Research & Information Centre (Sheep)
K. R. Pete road, Nagamangala, Mandya dist. 571432

Photograph

Designation

Associate Professor & Head

Educational Qualifications

M.V.Sc., Ph.D., (Animal Genetics & Breeding)

Profile

Worked as Veterinary Officer in the Department of A.H.&V.S. Karnataka Govt. from 11.11.1993 to 4.10.2007.
Worked as Assistant Director in the Department of A.H.&V.S. Karnataka Govt. from 05.10.2007 to 09.06.2011.
Worked as Associate Professor at LRIC (Amruth Mahal), Konehally, Tiptur Tq from 10.06.2011 to 09.07.2014. Served as Head, LRIC(AM) and Principal, AH Polytechnic college.
Joined LRIC(Sheep), Nagamangala on 10.07.2014 and presently working as Head LRIC(S) since 11.06.2016.
Published several research articles in journals, abstracts in the symposium/compendium and involved in making booklet, folders, and pamphlets.
Involved in ICAR funded Extramural project on Mega Sheep Seed Project (Mandya Sheep) and Karnataka State Govt funded AKDP project on Amruth Mahal cattle as PI and in University funded projects as Co PI.
Organized several demonstrations for the Farmers regarding silage making, enrichment of straw, feed formulation and chafing fodder using chaff cutter.

Contact Details

Livestock Research & Information Centre (Sheep)
K. R. Pete road, Nagamangala, Mandya dist. 571432

Email ID

Office Telephone Number

08234-298010

Mobile Number

95353 75414
---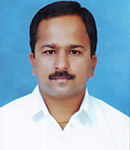 DR. MANJUNATHA S. S.
Assistant Professor & Farm Superintendent
Livestock Research & Information Centre (Sheep)
K. R. Pete road, Nagamangala, Mandya dist. 571432
Designation: Assistant Professor (Veterinary Pathology) & Farm Superintendent
Educational Qualifications:
M.V.Sc., (Ph.D.), M.B.A (TQM)
B.V. Sc & A. H.                  (1998-2003)   U.A.S. Dharwad
M.V.Sc. in Vet Pathology   (2003-2005)   KVAFSU, Bidar
M.B.A in TQM                    (2011-2012)   Sikkim Manipal University
Presently pursuing PhD in Vet Pathology on Part time basis at KVAFSU, Bidar
Profile
Worked as Assistant Professor (Contract basis) in the Department of Veterinary Pathology, Veterinary College, Bidar from December 2005 to May 2006
Worked as Veterinary Officer in the Department of A.H.&V.S. Karnataka Govt. from 16/05/2006 to 11/09/2012
Worked as Assistant Professor in the Department of Veterinary Pathology, Veterinary College, Shimoga from 11/09/2012 to 04/08/2015
Joined LRIC(S), Nagamangala on 05/08/2015 and presently working as Farm Superintendent since 24.08.2015
Awarded ICAR-SRF in the year 2009, Best Psper presentation award in 2015 & Best Poster presentation awards in 2016 at national conferences.
Published several research articles in journals, popular articles in the training manuals, abstracts in the symposium compendium and involved in making booklet, folders, pamphlets & radio talk.
Involved in ICAR funded Extramural project on Mega Sheep Seed Project (Mandya Sheep) as Co PI and in University funded projects as PI & Co PI.
Organized several Training programmes/ Field demonstrations for the Farmers/Students regarding Scientific sheep production, Organized one refresher training programme for Veterinary Officers and acted as resource person in several training programmes/workshops.
Participated in several State/National level technical conferences /training programmes & life member of IAVP, KVA and KVC.
Contact Details
Livestock Research & Information Centre (Sheep)
K. R. Pete road, Nagamangala, Mandya dist. 571432
Email ID: drssmanjunatha@gmail.com
Office Telephone Number: 08234-298010
Mobile Number:99009 71047