Vice - Chancellor (Acting)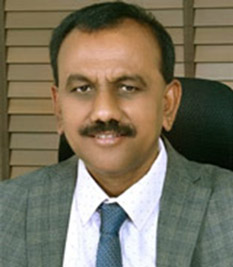 Dr. R.V. PRASAD
Designation and  Full address:
Vice Chancellor
KVAFSU, Nandinagar
PB No. 6, Bidar 585 401
e-mail: rvprashwin@gmail.com
Date of Birth: 02.05.1958 (Second May Nineteen fifty eight)
Academic Qualifications:      B.V.Sc, M.V.Sc, Ph.D
Post Graduate Guidance:
I have guided 12 MVSc students majoring in Veterinary Anatomy.
I am guided 4 Ph.D students majoring in Veterinary Anatomy
Particulars of Employment:
Worked as Assistant Professor, Associate Professor, Professor, Professor and Head. Worked as Dean Hassan and Shivamogga Veterinary Colleges and as Officer on Special duty for the establishment of Gadag Veterinary College. At present working as Vice Chancellor of KVAFSU, Bidar.
Teaching: For the past 29 years for Undergraduate, Masters and Doctoral Students.
Courses taught: Gross Anatomy, Microscopic Anatomy, Neuro Anatomy, Clinical and Applied Anatomy.
Research:
            Research on Histological and Histochemical Studies, Neuro Anatomical Studies,
            Electron Microscopical and Immuno Histochemical Studies. Studies on Molecular
            Biology includes factors affecting ovarian folliculo genesis.
Innovative  Studies :
Plastination of Biological Specimens using environment pollutants
Flash based innovative technique in teaching Veterinary Anatomy.
 Identification of Species of wild and domestic animals using Fourier Transform InfraRed Spectroscopy (FT-IR).
Development of Cowslips using Organic polymers.
Development of Bioscaffolds for tissue repair and regenerative medicine.
Development of Biomaterials using Chicken feather waste for multiple applications.
Awards and Recognitions:
A total of 14 Awards and Recognitions include Best Paper, Best Poster, Plaque of Honor in recognition of outstanding contribution to Veterinary Profession, Certificate of Merit in recognition of research grants, VGST Award of  GOK and Lions Club Award.
Member, of various Bodies/Association/Council:
Chairman, Board of Management, Karnataka Veterinary Animal and Fisheries University, Bidar, Chairman Academic Council, KVAFSU, Bidar, Member of Board of Studies , KVAFSU and Sri Venkateshwara Veterinary University, Life Member of Indian Association of Veterinary Anatomists, Karnataka Veterinary Association, Karnataka Veterinary Council, University of Agricultural Sciences Alumni, Bangalore, Indian Society for Advancement of Canine Practice. Bangalore Veterinary College Alumni Association.
Funds Mobilized for Projects:
Preparation of anatomical teaching aids by recycling Plastic tea cups and thermocol. Amount 50,000.
Eradication of Pollution by recycling plastic tea cups and thermocol in the preservation of biological specimens used for teaching and museum purpose A project sanctioned from Karnataka State Pollution Control Board, Bangalore, amount  3, 00,000.
Centre of Innovation in Science Education (CISE) awarded 30 lakhs from Vision Group of Science & Technology, GOK for three years from 2012-2016.
Fund for Infrastructure in Science and Technology (FIST) from Department of Science & Technology, GOI funding of 45.5 lakhs 2013-2016.
Publications:
            More than 30 publications published in Scientific Journals
            About 5 popular articles have also been published.
            7 lead papers presented in National and International Conferences
Patents:
Patent on Plastination has been filed and is in the final stage of patenting.
Patent on Rapid kit for Milk adultration has been filed.
Patent on Bioscaffolds has been filed.
Extension Activities:
As a resource person for installation of stalls in Pashumelas. Technical support in vetero legal cases assisting Police and Forest officials. As a member, Co-chairman, Co-director and as Organising Secretary in Annual conferences and as Co-director (being the Dean of the College) in training Programmes of KVC, CPDO, EEC and Departments.