Department of Veterinary Public Health and Epidemiology
Infrastructure: The department has four Under-Graduate laboratories and is reasonably well equipped to handle the curriculum of the Under-Graduate and Post Graduate programmes. Fully furnished UG labs, research lab and data processing unit for epidemiological studies with all facilities for UG and PG programmes.
Under Graduate Programmes as per MSVE 2008:
CODE

COURSE TITLE

CREDITS

VPE 311

Milk and Meat Hygiene, Food safety and Public Health

2+1

VPE 321

Veterinary Epidemiology and Zoonoses

2+1

VPE 511

Environment and Environmental Hygiene

2+1

Tracking Programme

Bio-medical waste management

0+2

Food safety and residue analysis

0+2
Post Graduate Programme as per ICAR PG Regulations 2009:
PG programmes commenced in the year 2015-16 with intake of one student. The intake capacity of the department for PG programme is three (two regular students and one student on deputation from any other Government agencies).
PG programmes offered:
M.V.Sc. in Veterinary Public Health and Epidemiology.  
Course Structure for M.V.Sc in VETERINARY PUBLIC HEALTH & EPIDEMIOLOGY (ICAR PG Regulations, 2009)
CODE

COURSE TITLE

CREDITS

VPH 601

ELEMENTS OF VETERINARY PUBLIC HEALTH

1+1

VPH 602

BACTERIAL AND RICKETTSIAL AGENTS OF PUBLIC HEALTH SIGNIFICANCE

2+1

VPH 603

VIRAL, FUNGAL AND PARASITIC AGENTS OF PUBLIC
HEALTH SIGNIFICANCE

2+1

VPH 604

ZOONOSES AND PUBLIC HEALTH

2+1

VPH 605

PRINCIPLES OF FOOD HYGIENE AND SAFETY

2+1

VPH 606

FOOD-BORNE INFECTIONS AND INTOXICATIONS

2+1

VPH 607

MEAT AND MILK HYGIENE

2+1

VPH 608

ENVIRONMENTAL POLLUTION AND SAFETY

3+1

VPH 609

FISH, FISH PRODUCTS AND SEAFOOD HYGIENE

1+1

VPH 610

BIOTERRORISM AND DISASTER MANAGEMENT

1+1

*VPH 611

PRINCIPLES AND APPLICATION OF EPIDEMIOLOGY IN VETERINARY PUBLIC HEALTH

2+0

*VPH 612

EPIDEMIOLOGICAL METHODS

2+1

VPH 691

MASTER'S SEMINAR

1+0

VPH 699

MASTER'S RESEARCH

20
Department activities:
Primarily teaching for undergraduate and Post graduate students.
Research Projects: 5 (Budget outlay 60 lakhs)

Extra Mural Projects: 3
University Funded Projects: 2

Analysis of various types of samples viz:, food samples for safety and quality assurance, clinical samples for disease diagnosis and culture and sensitivity, environmental samples for quality and safety etc. are routinely done for students learning and exposure and to help the clients.
Preparation teaching materials/aids with the participation of students and are being displayed in the departments.
Investigation of animal diseases.
Project details- Extramural
Dept.

Title

Funding Agency

Budget
(in lakhs)

Yr. of Comt.

Principal Investigator

VPE

Livestock support and extension activities – Sujala III component.

Watershed Department, Govt. of Karnataka.

Rs.53 Lakhs

Sep-2014

Principal investigator:

Dr. Veeranna K.C.

Co-principal investigators:

Dr. Madhavaprasad C.B.                                               Dr. Nagabhushan V.   

VPE

Application of polyclonal hen egg yolk antibodies for the prevention of zoonotic food borne Salmonellae of poultry

SERB, DST

Rs.24.8 Lakhs

Jan-201to Dec 2015

Dr.Nagappa Karabasanavar
Project details - University Funded
Dept.

Title

Funding Agency

Budget (in lakhs)

Yr. of Comt.

Yr. of Cmpl.

Principal Investigator

VPE

Experimental studies on inoculation, sanitation and recovery of   Listeria monocytogenes in raw shelled eggs at ambient and refrigeration temperature and its risk assessment for egg safety' [DR/KVAFSU/SRP/PreCliSc/10/2013-14]

KVAFSU Bidar University Funded Project

Rs
15,000/-

2013

2015

PI: Dr. Santosh A. Sajjan, Assistant Professor

Co-PIs:
1.Dr. Nagappa Karabasanavar
2. Dr. Madhava Prasad C.B.

VPE

Development of rapid test for detection of adulterants in milk[DR/KVAFSU/SRP/PRECLISC-17/2014-15]

KVAFSU Bidar University Funded Project

Rs. 20,000/-

2014

2015

PI: Dr. Nagappa Karabasanavar, Assistant Professor
Co-PIs:
Dr. Madhavaprasad C. B
Professor & Head
Dr. Prashanth S Bagalkote
Assistant Professor (OPG)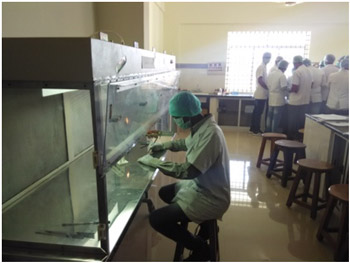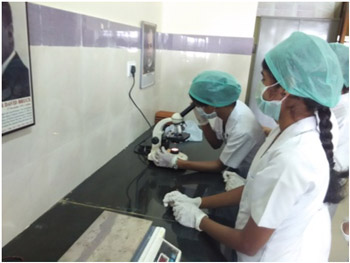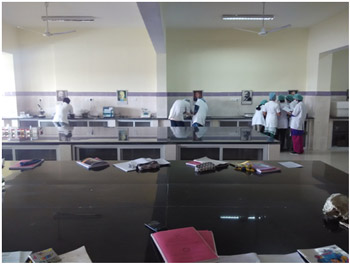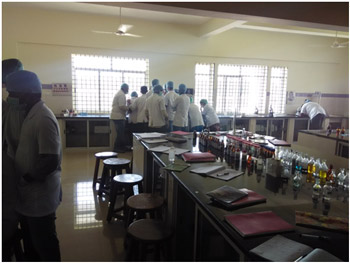 Under-graduate students performing practicals in the laboratory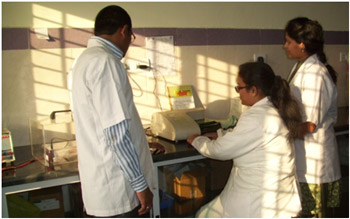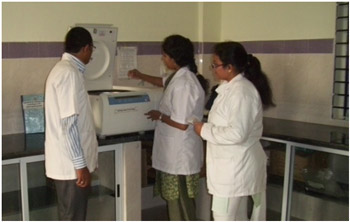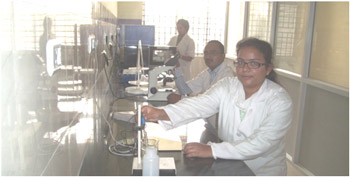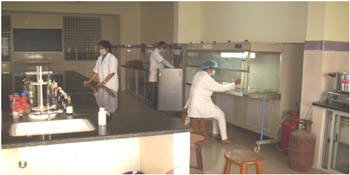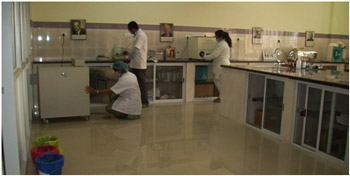 Post-graduate students performing practicals in the laboratory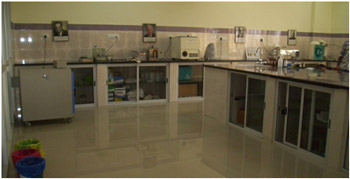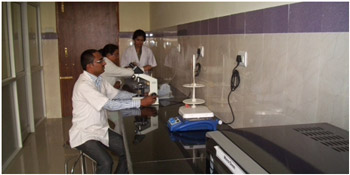 Research Laboratories